Non-Traditional Nations Spawn NHLers
Sunday, 12 August 2007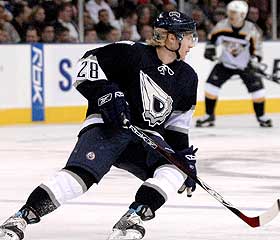 Originally published in Rinkside in 2007
By Lucas Aykroyd
In the NHL's Original Six era, guessing the nationalities of the players was easier than scoring into an empty net on a clear-cut breakaway. During the 1940's, 50's, and 60's, all NHLers were Canadians, except for a handful of talented Americans like goalie Frank Brimsek and forward Tom Williams.
The 1970's saw Swedish and Finnish talent starting to filter into the League, and the 1980's brought an influx of Scandinavians, plus some defectors and officially released players from Czechoslovakia. The fall of the Soviet empire in the early 1990's opened the floodgates, and superstars and journeymen alike from Russia and other former Eastern Bloc countries became fixtures in North American rinks.
But that still didn't mean hockey could compare to soccer in terms of drawing players from all over the globe. Even today, up until very recently, you'd rarely see an NHLer that hailed from a non-traditional nation.
Granted, Germans have made their presence felt–who can forget Uwe Krupp's 1996 overtime Stanley Cup-winning goal for Colorado? Yet Germany had established itself as a respectable hockey nation even before that, winning a bronze medal at the 1976 Olympics and participating in the 1984 Canada Cup, among other achievements. It wasn't as if current Teutonic titans like Marco Sturm, Jochen Hecht, and Christian Ehrhoff just materialized out of the blue.
So which non-traditional nations have broken through? In our analysis, let's discount players that were born in exotic locations but learned their hockey in North America. For instance, Olaf Kolzig (South Africa) picked up the game in British Columbia, even though the veteran Washington goalie's parentage has enabled him to represent Germany internationally. It would be nice to imagine hordes of South American fans cheering for the Calgary Flames due to Willi Plett (Paraguay) and Robyn Regehr (Brazil), but those two first made an impression while playing junior in Ontario and Alberta respectively. Similarly, neither Rod Langway (Taiwan) nor Jim Paek and Richard Park (South Korea) can claim to have popularized the NHL in Asia.
However, this year there are three young NHLers from non-traditional nations who deserve recognition: Slovenia's Anze Kopitar and Norway's Patrick Thoresen and Ole-Kristian Tollefsen.
While it might be tough for many North Americans to locate Slovenia on the map, Kopitar is doing his former Yugoslav republic proud amid the bright lights of Hollywood. Selected 11th overall by the Los Angeles Kings in the 2005 draft, the 19-year-old center has made an instant impact in his rookie campaign as the first Slovenian in NHL history.
Most people expected Pittsburgh's Evgeni Malkin to run away with the Calder Trophy, but Kopitar has served notice that he'll get his share of votes from the members of the Professional Hockey Writers Association. And he's not getting noticed just because of his imposing physical stature at 6-4 and 220 pounds. It's because he brings an impressive blend of size, skill, and savvy to the New NHL.
The Slovenian ace may not skate as fast as Malkin or equal the defensive awareness of the Russian, who's already being compared to a young Sergei Fedorov. But Kopitar's first career NHL goal on October 6 versus Anaheim was as impressive as they come. He cut wide around former Hart and Norris Trophy-winning defenseman Chris Pronger and then outwaited 2003 playoff MVP Jean-Sebastien Giguere before lifting the puck home. The Jesenice native showed off his hand-eye coordination on another goal versus Phoenix less than two weeks later, batting in the puck out of mid-air at close range while keeping his stick below the crossbar.
"I feel comfortable on the ice," Kopitar told the Los Angeles Daily News. "I haven't had any problems with the speed of the game. I was [in training camp with Los Angeles] last year, so that made it a lot easier."
Taking shifts on both the power play and penalty kill, Kopitar has become so popular that his number 11 jersey sells out at Kings games. He's getting plenty of support from his teammates as he acclimatizes to North America. He shares his Hermosa Beach digs with fellow rookie Patrick O'Sullivan, rooms on the road with Brian Willsie (who played in Slovenia during the 2004-05 NHL lockout), and has found good on-ice chemistry with Russian linemate Alexander Frolov.
However, Kopitar happily acknowledges his father Matjaz as his main hockey mentor, both from watching him as a player and learning from his coaching expertise in the family's hometown. Without that influence, young Anze could easily have pursued a sport like soccer, handball, or basketball, all of which are bigger than hockey in Slovenia. But he persevered and his natural talent came through, enabling him to star for Slovenian national junior teams before he made the jump to Sodertalje SK in 2004-05.
With the Swedish Elite League club's under-20 squad, he posted a league-best 49 points in 30 games. When Kopitar was promoted to play against the big boys last year, his numbers weren't quite as eye-popping due to limited ice time (20 points in 47 games). But just as impressive as his ability to perform against tough competition in Sweden was the way he represented his country at two consecutive World Championships.
Whenever Slovenia cracks the top division of IIHF competition, it's always in tough because it lacks depth. The Balkan nation of 2 million citizens has only about 1,000 registered players. (In fact, one of its better goaltending performances of the new millennium came from Stan Reddick, the brother of former NHL netminder Eldon "Pokey" Reddick, who received citizenship in time to play at the 2002 Worlds.) Although Kopitar only lit the lamp once in his 2005 debut in Austria at age 17, he showed enormous maturity when he returned for the 2006 tournament in Latvia. He created a buzz with a two-goal showing in a 5-3 tournament-opening loss to Finland, and would finish with nine points in six games altogether.
Even though Slovenia was ultimately relegated to Division I for 2007, you can't argue with the value of the international experience Kopitar gained against some of the world's best players in IIHF competition. It's paying dividends in Los Angeles right now.
Meanwhile, more northerly cities are benefiting from Norwegian talent, and the prime example is Patrick Thoresen with Edmonton. The 22-year-old forward signed a two-year deal as a free agent on May 31 after finishing second in Djurgarden team scoring in the Swedish League last season. Coming into training camp, there was no guarantee Thoresen would end up starting the season with the Oilers. Yet the 5-10, 185-pounder has exceeded expectations, even vaulting from fourth-line duty to a slot alongside Czech snipers Ales Hemsky and Petr Sykora at one point.
Oilers coach Craig MacTavish has been impressed with the rookie. "We haven't had a player from Europe come in and be as polished and complete and as effective as he's been," MacTavish said. "I haven't seen any weakness in any facet of his game so far."
The former Storhamar IF attacker, who debuted in the Norwegian League at the tender age of 15, has prepared for this opportunity his whole life. His father Petter represented Norway in five straight Olympic hockey tournaments, starting in 1980. "I was born to play hockey," said Thoresen. "It was just natural for me."
To hone his skills, he spent 2001-02 and 2002-03 with Moncton and Baie-Comeau of the Quebec Major Junior Hockey League respectively, finishing third in league scoring in his second year. More recently, he suited up on the top line during Norway's 11th-place finish at the 2006 IIHF World Championship, helping his homeland to its best result since 2000.
Thoresen is just the fifth Norwegian in NHL history. Besides Espen Knutsen, whose 207 NHL games mark him as the country's greatest-ever talent, forward Bjorn Skaare (with one game for Detroit in 1978-79), journeyman defenseman Anders Myrvold, and Columbus blueliner Ole-Kristian Tollefsen have also broken through.
Tollefsen's profile may not be as high as a Norwegian mountain, but the 22-year-old Blue Jackets rookie is continuing to progress this season after appearing in five NHL games in 2005-06 and spending the rest of the campaign with the AHL's Syracuse Crunch.
Employing a solid stay-at-home style, the 6-1, 187-pounder has shown he isn't afraid to get involved physically, dropping the gloves with opponents like Carolina's Scott Walker and San Jose's Mark Smith. The former Lillehammer player got familiar with the North American approach when he suited up for the WHL's Brandon Wheat Kings in 2002-03.
Tollefsen has also fit in well off the ice in Columbus, whether extolling the merits of his favorite band, Metallica, or joining other Blue Jackets to sing on a charity Christmas album produced by Anson Carter. If Columbus fails to advance in the post-season, he'll undoubtedly be summoned by Team Norway for his second go-round at the World Championships, the first coming in 2005.
Meanwhile, it's worth noting that not all of today's NHLers from non-traditional countries are new faces.
France was relegated to Division I at the 2004 Worlds, with goaltender Cristobal Huet posting a dismal .850 save percentage and 5.19 GAA. However, life has been considerably kinder to the 31-year-old on this side of the Atlantic during his four NHL seasons.
After Philippe Bozon had moderate success as the first French-born and trained player to crack an NHL roster (41 points in 144 games for St. Louis in the early 1990's), some might have scoffed at the notion that a netminder from the land of baguettes and berets could excel in this league. But Huet has proven the doubters wrong.
The two-time Olympian and four-time World Championship participant made his NHL debut with Los Angeles in 2003, and emerged as a strong backup behind starters like Felix Potvin and Roman Cechmanek. It looked like he was fated to occupy the same role in Montreal behind Jose Theodore when the Kings traded him along with Radek Bonk for Mathieu Garon and a third-round pick at the 2004 NHL Entry Draft.
But when Theodore faltered last season, Huet showed the form that earned him three Best Goalie awards in the Swiss League, recording seven shutouts and a .929 save percentage in 36 games. Even though the Canadiens lost in six games to the eventual Cup champion Carolina Hurricanes in the first round, Huet's playoff save percentage was the same.
"It's amazing," said Montreal defenseman Craig Rivet. "You can sit here and talk about a guy making great saves and keeping you in games, but [Cristobal is] just an awesome guy. Guys really like to play in front of him, like to work for him."
This season, Huet is splitting playing time with another outstanding goalie from a non-traditional nation, David Aebischer of Switzerland.
In fairness, the Swiss Hockey Union was formed in 1908, and the Swiss won one silver medal and eight bronzes at World Championships in the years up to and including 1953. The world's oldest annual hockey club tournament, the Spengler Cup, has been held in Davos since 1923. But hockey has always taken a back seat to skiing in this famously neutral country. After accomplishing little in the second half of the 20th century, Switzerland recently re-emerged as a force at the top level of hockey, winning bronze at the 1998 World Juniors and stunning Canada with a 2-0 victory at the Turin Olympics.
Aebischer, noted for his ultra-competitive nature, has made NHL history. He became the first Swiss player to have his name etched on Lord Stanley's mug when he backed up Patrick Roy in the 2001 triumph of the Colorado Avalanche. In 2003-04, he also became the first Swiss NHL starter, appearing in 62 games and posting a 2.09 GAA and .924 save percentage. After the lockout, he seemed to lose his confidence in Denver and got traded for Theodore, but he could play just as big of a role as Huet in Montreal's Stanley Cup quest this year.
Much like Aebischer, Martin Gerber earned his 2006 Stanley Cup ring in the shadow of another goalie (Cam Ward), although in this case the Swiss veteran began the playoffs as Carolina's starter and lost his job after battling stomach flu in the first round.
The Swiss have struggled to make an NHL impact at positions other than goal. Among defensemen, Julien Vauclair played one game with Ottawa and Goran Bezina suited up three times for Phoenix in 2003-04. Mark Streit, the longtime captain of the Swiss national team, has done better in Montreal, but this mobile 29-year-old rearguard was consigned to a part-time role in his 2005-06 rookie season and hasn't emerged as the dynamic power play quarterback we've seen in international competition.
Back in 2000-01, it looked like the Swiss were about to start sending forwards to the NHL en masse. They had mustered an impressive sixth-place finish at the 2000 IIHF World Championship, including a 3-2 win over the host Russians. Reto Von Arx played 19 games for Chicago, while Michel Riesen had 12 appearances with Edmonton and Thomas Ziegler suited up five times for Tampa Bay. But none of them were able to stick, and most North American and Swiss critics pointed to the difficulty they had adjusting to the NHL pace after being accustomed to a less rigorous Swiss League schedule.
This year, the only Swiss NHL representative up front is Phoenix's Patrick Fischer, who established his reputation for reliability with Lugano, Davos, and Zug.
Austria looks poised to give Switzerland a run for its money in the NHL sweepstakes. The neighboring German-speaking country, best-known for Mozart and apple strudel, is proud to have produced Thomas Vanek, the #5 overall selection of the Buffalo Sabres in the 2003 Draft. The savvy left winger had a great rookie campaign with 48 points, and although he faltered in the playoffs, he's emerged as an top player this season, boasting one of the NHL's best plus-minus ratings in the early going. Thomas Pock, meanwhile, continues to mature as a defenseman with the New York Rangers despite limited ice time in NHL stints dating back to 2003-04.
The Austrians actually outdid the Swiss at the 2006 Draft, as two of their impressive young wingers were chosen high. Michael Grabner of the Spokane Chiefs went 14th overall to Vancouver, and Philadelphia took Andreas Nodl with the 39th pick. Meanwhile, Swiss goalie Reto Berra was chosen 106th by St. Louis and forward Julian Walker went 162nd to Minnesota.
There's much more to come from non-traditional nations. Forwards Jannik Hansen (Vancouver), Frans Nielsen (New York Islanders), and Kim Staal (Nashville) will all vie to bring a Danish presence into the League. Nielsen and Staal made an impact in the Swedish League as teenagers, and Hansen was one of the WHL's top rookies with Portland last season, so their chances are good. For Hungary, winger Janos Vas is in his second season with Dallas's AHL affiliate in Iowa. In the past, Poland has produced NHL talent and toughness in Mariusz Czerkawski and Krzysztof Oliwa, and you never know what the future may bring.
The idea of non-traditional NHLers has even captured the imagination of novelists. For instance, John Degen's new book The Uninvited Guest includes a fictional character named Dragos Petrescu, the first-ever Romanian player to win the Cup.
But as hockey's global popularity continues to expand, some of these newcomers will end up writing their own storybook endings in real life.
del.icio.us
Digg it
Furl
iFeedReaders
Netscape
RawSugar
reddit
StumbleUpon
Yahoo MyWeb
YardBarker