Do you hate European hockey jerseys?
Tuesday, 6 November 2007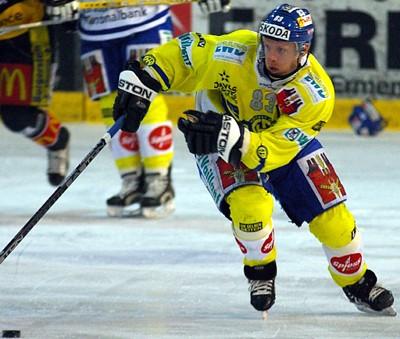 Good news lies ahead for those who object to the garish advertising that often covers European hockey jerseys.
When the International Ice Hockey Federation kicks off its Champions Hockey League in 2008-09, 24 clubs from across Europe (including the champions of the top six European leagues) will compete for some 16 million Swiss francs in prize money, with 1 million going to the overall winner.
And guess what?
When these clubs compete in the CHL, regardless of what sponsors they may have in their domestic leagues, they won't have ads on their jerseys.
The latest issue of the IIHF Ice Times (PDF file) features an interview with Craig Thompson, CEO of OVATION Sports AG, who will spearhead the marketing push to make this hockey showcase second only to soccer among European club tournaments:
Your former project, the UEFA Champions League, has a very specific brand concept that makes the broadcasts and the games easily recognizable. Are there similar plans for the CHL?
Yes. Branding of the CHL is a key element in this whole project. Everything from the ice and the arena to the TV graphics, fan merchandise, match programs, team jerseys, web site, and TV studios will be part of the branding concept. There should never be a doubt that the game a fan watches either on TV or in the arena is a Champions Hockey League game. And yes, the club jerseys will be clean from advertising. That's very important.
Why?
One of the most important things is to make the top European hockey clubs recognizable among sports fans. Everyone in Europe knows Real Madrid and Manchester United, but how many know AK Bars Kazan or Farjestad outside of their home countries? One way to achieve that is to increase the recognition and value of the club brand, the logo, and the colors. This is what the club jersey should display and this shouldn't get lost in endless patches of advertising.
The clubs will continue to wear uniform ads in their domestic leagues. But as the interview goes on to show, it's no secret that the ultimate goal of this marketing plan is to make European hockey much more economically secure, enabling clubs to retain more of their top talent–and hey, maybe even drop the ads altogether.
What do you think the CHL can do for the clubs?
It can strengthen their fan base in Europe and further increase their financial stability. With new economic conditions the clubs may be able to compete for some of the players who now leave for the NHL.
That'll be a relief for fans of the legendary European franchise depicted below. (Oh, hang on a second–that's the Islanders honoring Al Arbour.)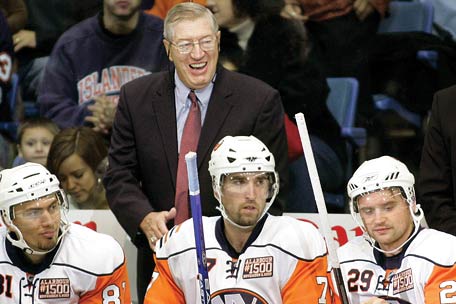 del.icio.us
Digg it
Furl
iFeedReaders
Netscape
RawSugar
reddit
StumbleUpon
Yahoo MyWeb
YardBarker