Attitude could still hurt Canada at World Juniors
Thursday, 3 January 2008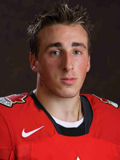 Brad Marchand should have listened to Zach Boychuk.
When Canada lost 4-3 to Sweden in round-robin action at the 2008 IIHF World Junior Championship, it ended a 20-game winning streak at the tournament. Boychuk, whose 91 points for Lethbridge last year earned him third place in the WHL scoring derby, told reporters: "In the last couple of years, Canada has been a little bit arrogant. We've had this streak so long, for so many wins, and I think maybe at times we thought we were just going to kind of win the games, and that's not the case." In other words, the loss could serve as a good wake-up call for the team.
Cut to Wednesday. After Canada beat Finland 4-2 on Marchand's third-period winner to advance to Friday's semi-finals, the robust 19-year-old QMJHL forward spoke to TSN about the upcoming clash with the USA: "It's going to be a tough game…we're going to have to have our best game if we're going to beat them. Playing the Americans, that's a better rivalry than playing the Russians, so I think everyone's going to have an easy job getting up for that."
Marchand reiterated those sentiments to the Canadian Press: "I think it's going to be a lot more fun playing against the Americans because of the rivalry. I think it's better than Canada versus Russia now."
Marchand is absolutely entitled to his opinion. Canada's shootout victory over the USA in last year's semi-final, where Jonathan Toews scored three flashy goals to seal the deal, was certainly the toughest test for the motherland of hockey en route to gold. And Marchand's palpable lack of respect for Russian hockey is certainly understandable after Canada won seven games and tied one versus Russia in the Super Series last summer.
But is it wise to publicly scorn an opponent that you could still very well end up meeting in Saturday's gold medal game, a one-time winner-take-all scenario? If you read between the lines, Marchand might as well be saying: "If we beat the Americans and then wind up with Russia, we're good to go."
Team Canada captain Karl Alzner echoed that attitude in a pre-World Junior interview in the latest issue of Prospects Hockey: "Really, the only comfort level will be with the Russians. We don't want to be the team that beat the Russians but lost the tournament."
Well, there shouldn't be any room for a "comfort level," regardless of whom you're facing. Especially considering that Canada has not looked as strong as it did in 2005, 2006, or 2007, fine performances from kids like John Tavares and Drew Doughty notwithstanding.
Let's get things in perspective. The Russians have made it to the last three straight championship games, and won gold in 1999, 2002, and 2003. Yes, their defense this year has been porous at times against weaker opponents like Switzerland and Kazakhstan. But they're also capable of turning it on with offensive creativity, as they did in their 4-1 quarter-final win over the Czech Republic.
The Americans, meanwhile, have just one gold to their credit all-time (2004), and only three medals overall since 1997 (silver in 1997, bronze in 2007). They were ousted by Russia in the 2005 and 2006 semi-finals.
Provided Craig Hartsburg's squad gets past the James vanRiemsdyk-led USA and faces Canada's main historic rival in the final, they'll need to remember that beating the Russians isn't some kind of entitlement.
del.icio.us
Digg it
Furl
iFeedReaders
Netscape
RawSugar
reddit
StumbleUpon
Yahoo MyWeb
YardBarker