Nashville's Weber not eager to go on vacation
Friday, 7 March 2008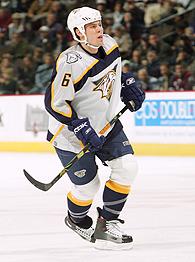 Maybe the Mexican vibe in Vancouver sent the wrong message to the Nashville Predators during their 6-2 loss to the Canucks on Thursday night. A mariachi band played rinkside to promote Tourism Mexico, and in nearby Yaletown, the Tequila Kitchen restaurant was preparing for its grand opening. But surely come April, defenseman Shea Weber and his teammates don't want to find themselves golfing in Cancun, a fate that could await them if they continue to squander points in the tight Western Conference playoff race. (They gained some redemption with a 2-1 OT win over Calgary on Friday.)
"We didn't pay enough attention to detail tonight," Weber told HockeyAdventure.com after the Vancouver loss. "We gave the Canucks way too many chances, and against a team with that kind of skill up front and that solid of a defense, it's tough to come from behind."
It's been a tough season for the Predators overall. Summer was rife with rumors that the club would be sold and relocated to Canada, and the acquisition of the franchise by a local ownership group was only finalized in November. Either through free agency or trades, Nashville lost key players like superstar Peter Forsberg, leading scorer Paul Kariya, starting goalie Tomas Vokoun, power forward Scott Hartnell, and captain Kimmo Timonen. Signing Radek Bonk and promoting prospects like defenseman Ville Koistinen and goalie Dan Ellis provided some relief, but these guys surely couldn't fill the void their predecessors left behind.
For Weber personally, injuries have been a huge factor. The third-year NHLer dislocated his knee cap in the October 4 opener versus Colorado, missing 18 games, and then was sidelined for 11 more between December 23 and January 13 due to a leg injury. It's no wonder the 6-3, 213-pounder won't match his impressive 2006-07 output of 17 goals, 40 points, and a team-best 165 hits.
"It's tough to get it going when you go out in the first game of the year," admitted Weber. But you know what? There's no excuses now. It's crunch time, and I need to get my game back and play the best I can. I've been getting some chances but haven't been able to put any home lately. First things first, though. I want to focus on my defensive side, and other things will happen from there."
Throughout the season, the 22-year-old native of Sicamous, BC has stayed in touch with a buddy from nearby Salmon Arm, Cody Franson, who's maturing quickly as a 20-year-old rookie with Nashville's AHL affiliate, the Milwaukee Admirals. Franson is considered one of the better defensive prospects not currently skating in the NHL, and won a Memorial Cup with the Vancouver Giants in 2007. He's recorded more than 30 points already this season.
What tips has Weber passed along to Franson? "You mean what kind of tips is he giving me?" said Weber with a laugh. "He's having a great season for himself. I just tell him to keep it simple. He's a good player, and he just has to be confident in what he does."
Even though the Predators were quickly ousted in the first round of the 2007 NHL playoffs by the San Jose Sharks, Weber got a shot of confidence when he was invited to join Team Canada at the 2007 IIHF World Championship in Moscow, Russia. He got off to a rough start when he was suspended for three games for elbowing German forward Yannic Seidenberg in the neutral zone during Canada's opener. However, Weber rebounded smartly, posting a goal and assist and a +2 rating as Canada amassed a perfect record and won gold for the third time in the last five years.
"The whole experience was something different for me," said Weber. "I'd never been over to Europe before. Playing on the big ice was different. Playing with a group of guys who came together like that so quickly was something special and I'll never forget it."
Weber was especially impressed by Team Canada GM Steve Yzerman, who will return to shepherd the host nation's entry in May in Halifax: "He was awesome. He's just a really upfront, straightforward guy. He's a good guy to be around. There's nothing bad I could say about him."
Meanwhile, the big D-man known for his shot-blocking prowess isn't thinking about Moscow or Mexico. He knows how important it is for the Predators to find a way into the playoffs and build their credibility in the non-traditional hockey market of Tennessee. Fans are tired of hearing sad songs from Sommet Centre. With four 20-goal men in Jason Arnott, J.P. Dumont, Alexander Radulov and Martin Erat, there should be enough firepower to pull through–as long as the defense bears down after surrendering five or more goals in five of Nashville's last 11 games.
"It's crucial to get in," said Weber. "We want to show the new owners that we're capable of winning, and that the franchise is going to be good for a long time. This is the time of year when everyone needs to bring their best game."
del.icio.us
Digg it
Furl
iFeedReaders
Netscape
RawSugar
reddit
StumbleUpon
Yahoo MyWeb
YardBarker